---
Fortune Brands has teamed up with Rebuilding Together (RT) – a national nonprofit organization with the mission to repair homes, revitalize communities and rebuild lives – to create the Dreams of Home community revitalization project. The project launched in 2021 with a $500,000 commitment and volunteers from Fortune Brands to support essential home repairs for neighbors in underserved communities near several of our operations, including the Chicago metro area; Northeastern Ohio; Rogue Valley, Oregon; and the greater Charlotte, North Carolina area.
Not only has RT completed several projects across the United States, we've also expanded our R&R project to focus on additional housing upgrades for Veterans.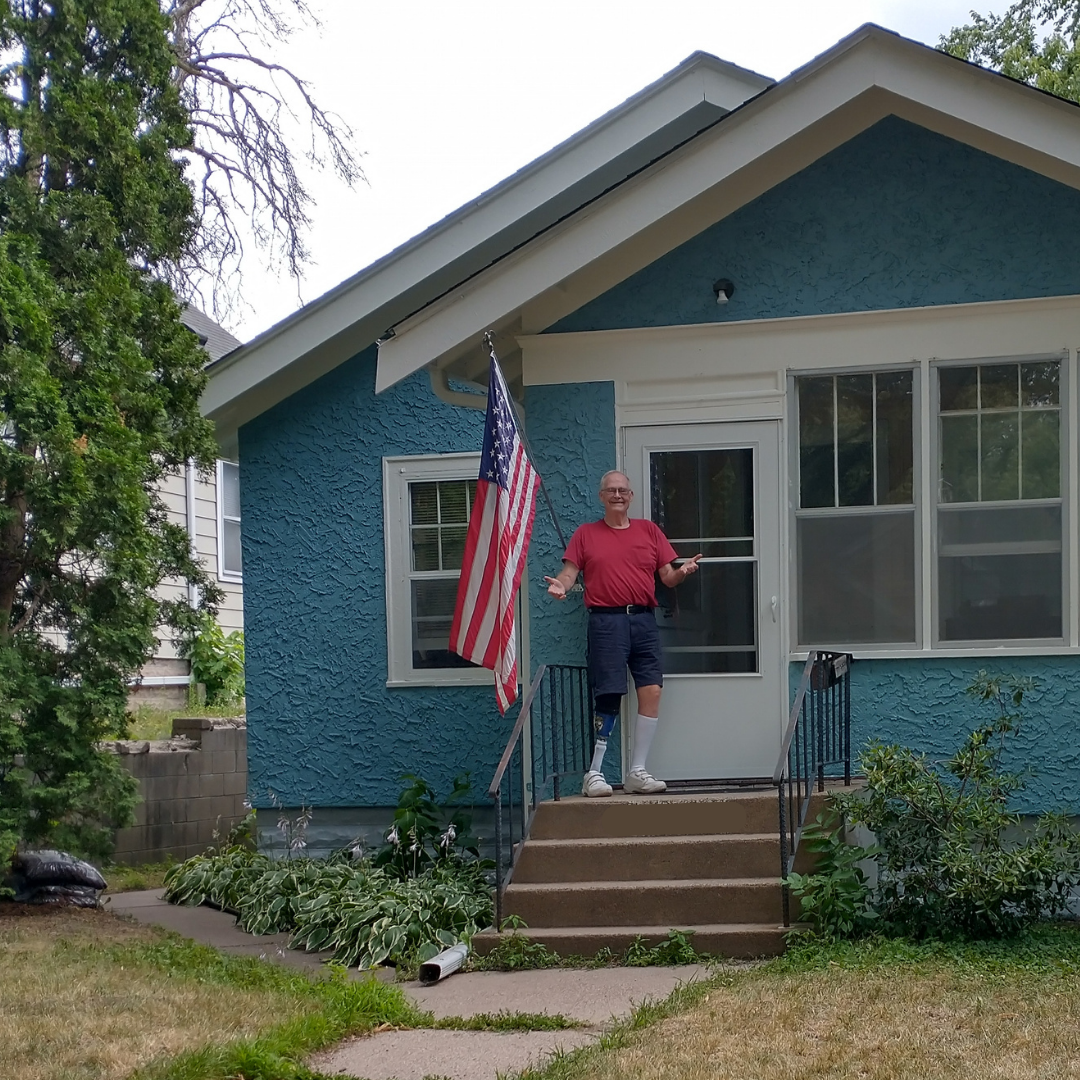 Safe at Home Veteran's Home Repair
With support from Fortune Brands, we are supporting RT's work to repair the homes of Veterans or community centers in 9 Rebuilding Together communities near to our where our associates live and work.
The projects include common repairs and modifications such as installing grab bars, handrails, entry and threshold ramps, low–rise steps, widening doorways, modifying tubs and showers, removing tripping hazards, installing smoke and CO2 detectors and improving interior and exterior lighting.
"These repairs mean that I'll not have to worry about hurting myself trying to attempt these repairs myself," said Mr. Gadson, an Air Force Veteran living in St. Joseph County, Indiana. "It has happened before and my wife is not happy when I end up hurt. She needs me around. We'd both love to stay here in this home forever."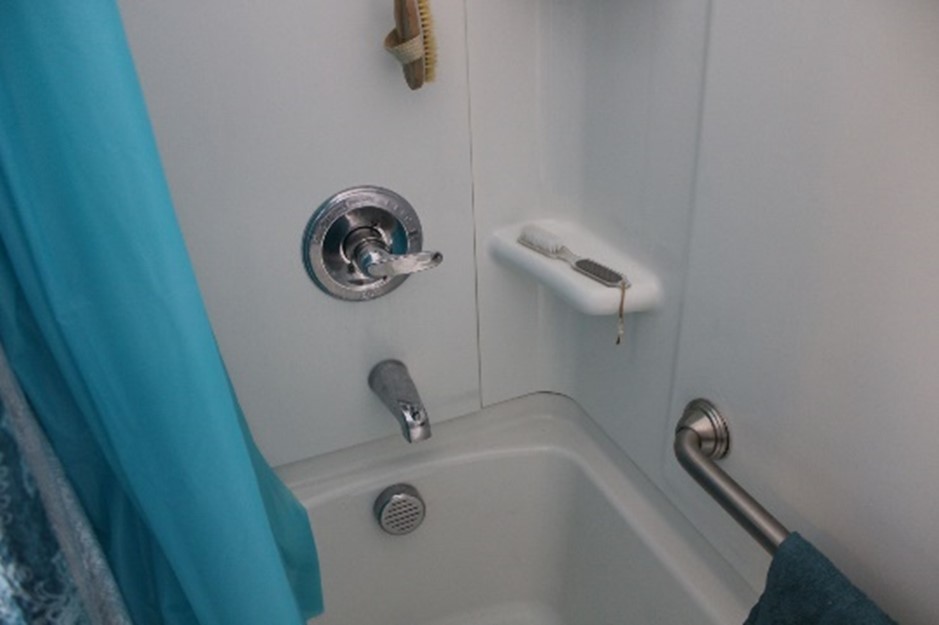 Veteran Receives Grab Bars in Charlotte, NC
Through our partnership, Rebuilding Together of Greater Charlotte helped repair a home for an Army Veteran who served for 9 years. Built in 1928, the family has lived in the home for 14 years. With age, the residents have had trouble getting in and out of the shower. Rebuilding together volunteers helped install Moen shower grab bars and additional grab bars at entry points into the home and bathroom, a low barrier shower and railings on the staircase.
In addition, the team cut back bushes and trees which impacted the ability to pull into the driveway, built two rockers for the front porch, added a flagpole and weeded and planted.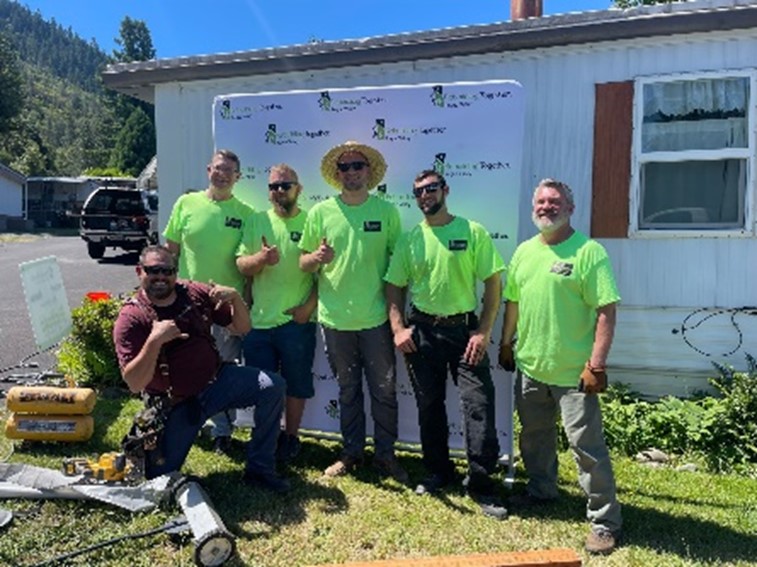 Older Adult's Home Repaired in Grants Pass, Oregon
A group of employees based in our Grants Pass, Oregon, MasterBrand Cabinets facility got together in June to help an older adult repair her trailer. Built in 1965, the trailer's roof leaked, which led to a number of issues including the porch rotting. In addition, the front door did not lock properly.
The team spent the day on site replacing the damaged plywood sheeting and roofing, removing and replacing the front door and installing new wide windows as well as railing and stairs. In addition, the team removed a sunroom in preparation for a future deck.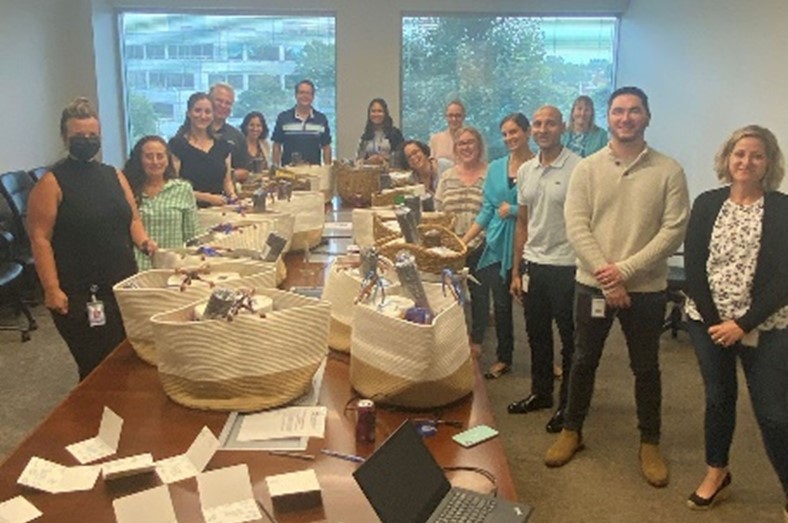 FBHS Headquarters Packs Safety Items for Families in Metro Chicago
In July, associates at Fortune Brands Home and Security's Deerfield, Illinois, headquarters, put together gift baskets for local Rebuilding Together Metro Chicago families. The baskets included safety items, like non-slip mats, flashlights, first aid kits and more, along with comfort items like blankets, tea and chocolate.
These projects are just the first of many taking place over the next few years as Fortune Brands and Rebuilding Together continue to work together.
"We couldn't be more grateful for Fortune Brands' support," said Caroline Blakely, President and CEO of Rebuilding Together. "Together, we are making a lasting impact in the lives of neighbors in need across the country."
Follow