---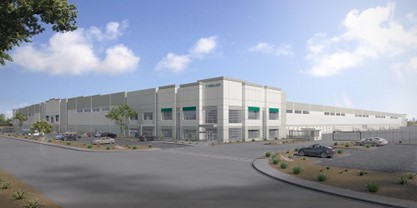 Yesterday Moen broke ground on the Prologis Speedway North Distribution Center. The state-of-the-art facility will allow Moen to stock more inventory on the West Coast to reduce transportation costs and lead times. It will also feature new warehouse management systems and automated elements that will improve efficiency and overall service for customers.
The distribution center is being built in partnership with the building owner, Prologis, Inc., and construction is being led by Layton Construction Company, LLC. The 680,314-square-foot facility will open in 2024 and sit on 74.6 acres of land to provide ample capacity for serving the Western United States and enhancing Moen's supply chain.
"We're excited to be working closely with Prologis, Layton, and the City of North Las Vegas to create a facility that will have a positive impact on our business, our customers and the surrounding areas," said Ron Wilson, executive vice president and chief supply chain officer.
While Moen already has robust recycling programs in place at all facilities, the new distribution center will include even more features to increase sustainability on site, such as an automated box sizer that will more accurately create the right size of boxes to reduce the amount of cardboard being used and help eliminate the use of plastic air pillows.
Construction on the distribution center is estimated to be completed in December 2023, with Moen taking over the facility in 2024.
Follow