Committed to Investing in Our Communities
Through our community giving program, our charitable partnerships are focused on the areas of Affordable Housing & Skilled Trades, the Environment, Diversity, Equity & Inclusion (DEI), and the local causes and organizations that matter to our associates. We encourage their community involvement through matching gifts programs and volunteer opportunities. Each year our associates donate thousands of dollars and countless hours to help make a difference in our communities.
Moen New Bern Receives 2021 Spirit of North Carolina Award
Moen New Bern was honored with this award by United Way of Coastal Carolina for demonstrating excellence with their United Way campaign, and for building a philanthropic culture community-wide.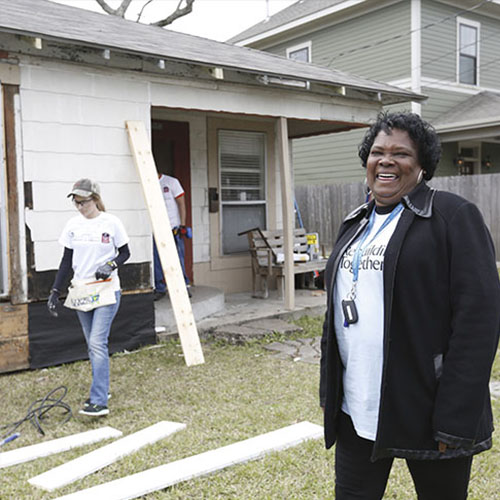 Fortune Brands Partners with Rebuilding Together
In 2021 Fortune Brands announced a 3 year, $500,000 commitment to create the "Dreams of Home" initiative with Rebuilding Together, revitalizing homes and communities near where our associates live and work.
BEING Partners with Together We Rise to Support Foster Kids
Our BEING (Black Employee Impact & Networking Group) employee resource group recently partnered with Together We Rise to host a virtual event, decorating panels for duffle bags for 195 children in the foster care system.
Larson Raises Nearly $200,000 for Brookings Area United Way
Larson Manufacturing and its associates are proud to have raised nearly $200,000 in 2021 to support the Brookings Area United Way!